Changelog
Updates and improvements to Productlane.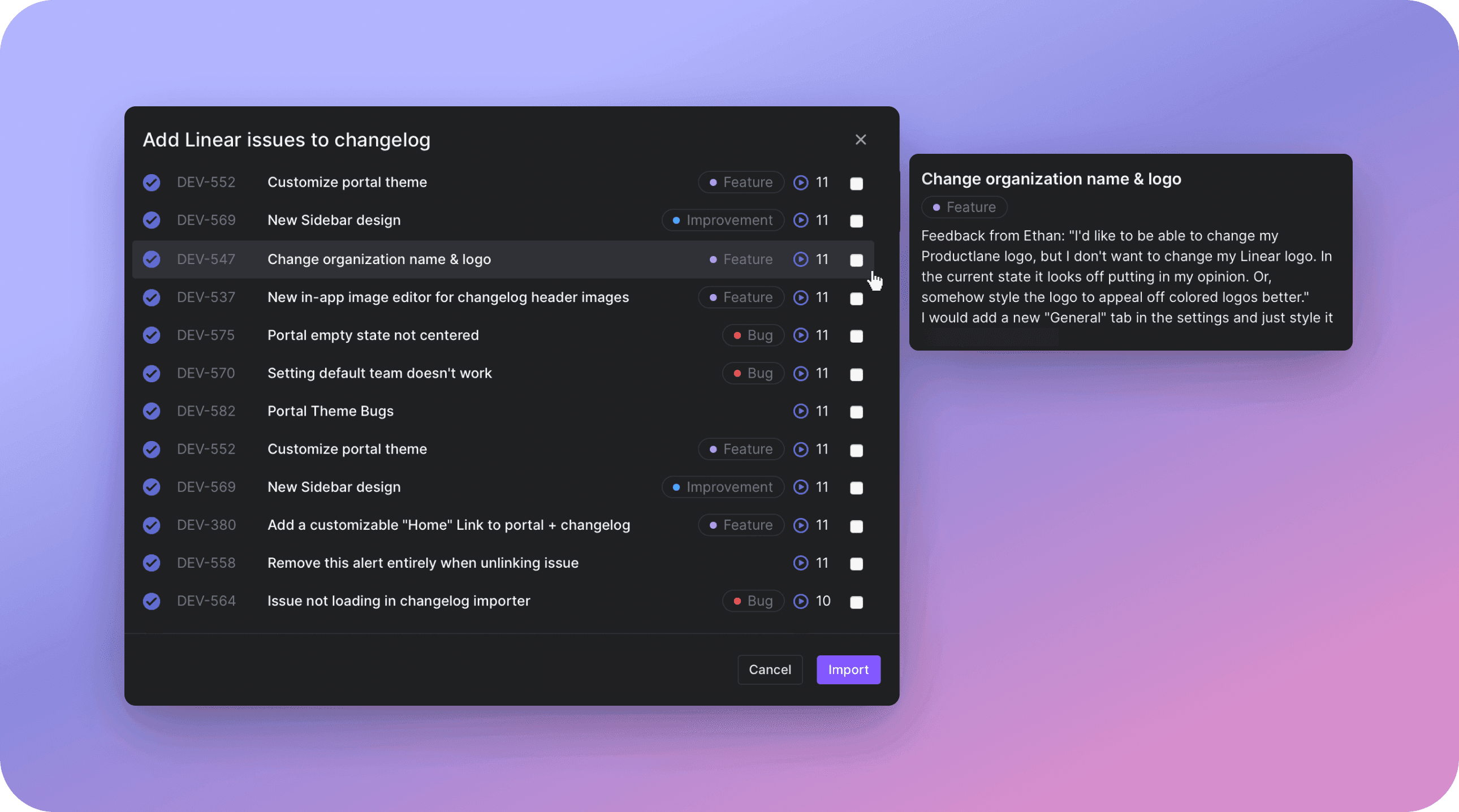 New Changelog Builder
In the last weeks, we realized how powerful it was to publish our own Changelog. People on our waitlist got excited reading it and recommended us to more people, even before trying the tool themselves.
We didn't expect potential users so urgently wanting a tool to write Changelogs – that's why we decided to make the experience even better.
Issue importer and grouping by label
With a click of a button, you can now add all issues from the last cycle to the Changelog and they are automatically grouped by their label like "Bugs" or "Improvements".
Additionally, we added a preview of each issue when you hover over it, to help you decide at a glance if the issue is worth putting in your Changelog.
Built-in image editor
Want to quickly update your team or users about a new release, but don't have time to design a nice title image? We got your back. When you upload a screenshot to your Changelog draft, you can now add a background gradient to it and customize the color, border-radius, and padding of the image.
Custom color themes
We understand how important it is to keep a consistent theme and branding for your company. When sending your Changelog to your users, investors, and teammates, you can now adjust the colors of your page to better fit your brand.
We designed it to be easy to customize and to work in both dark and light mode. You only need to set a few colors, such as the background, text and accent colors, which we then use to generate complementary shades for borders or hover effects.
Want to build a beautiful changelog fast? Sign up for our waitlist!
Other improvements
We added a customizable "Home" link to the portal and Changelog, so people can now click on the logo to get to your website

Changelog URLs now look a lot better

In the reply e-mail of a feedback, we added the project in the subject line

The project view count is now hidden when the portal is not published
Bug fixes
Fixed a bug where marking the last feedback processed, users were directed to the "Processed" tab

Portal updates were very slowing when adding large amounts of feedback

The login page didn't redirect to the admin area anymore when you were logged in

Autosaving didn't work anymore on Changelog

We changed the issue deletion to just unlinking it

Couldn't select other teams on issue creation

Changing default linear teams did not immediately reflect on the page

After opening the project creation modal, the keyboard listener was still attached

Next / Prev feedback navigation wasn't working smoothly

Large strings and other content overflowed the changelog page