Changelog
Updates and improvements to Productlane.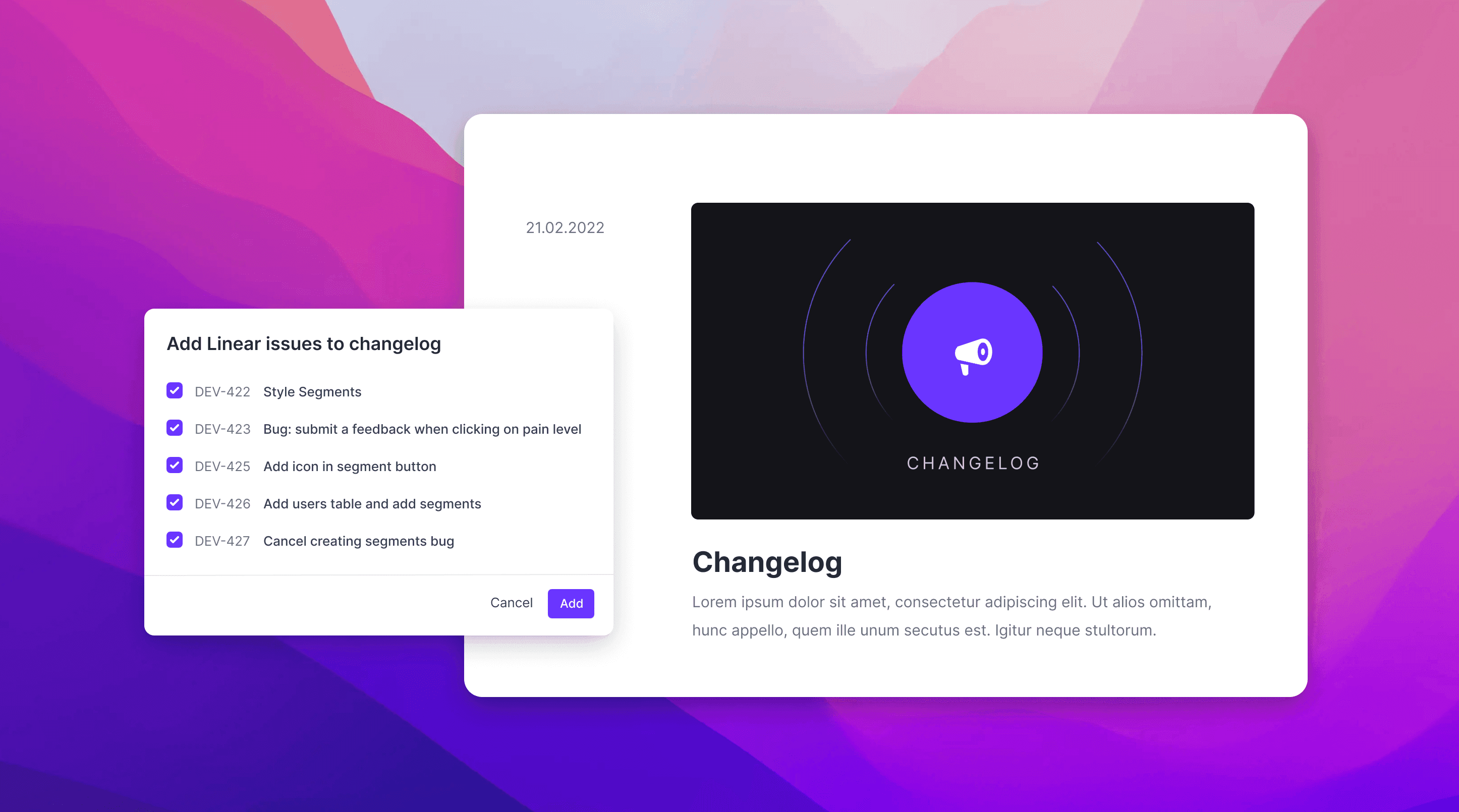 Announcing Productlane
Hello World. We are excited to announce Productlane with this first Changelog post!
After months of hard and fun work building the core of our product, including a deep Linear integration, custom public portals, project checklists, segmentation, and much more, we finally added support for changelogs and with them the final piece of our MVP.
From receiving feedback on your customer's problems all the way to sharing your current and past progress, Productlane is the easiest way to communicate with your user base.
Integrates with Linear
We are big fans of Linear and all the goodies it has, so we built Productlane from the beginning to perfectly integrate with it: A similar interface, CMD+K, shortcuts, dark mode, real-time sync, 100ms rule, you name it. We (and luckily also our first users) love it.
You can directly log into our tool with your Linear account and find everything there being synched in real time. The public roadmap in Productlane is the same as in Linear and as soon as you mark a project done in Linear, it appears as a changelog draft in Productlane.
With a Roadmap
Sharing your progress and future plans has never been easier, as a matter of fact, you already have all the info in Linear, it is only a problem of visibility. After you sign up, a public roadmap page is ready to be shared with your customers! Check ours out!
You will also see your users can submit feedback immediately. Internally you have the ability to segment this feedback by things like "High MRR Customer" or "Power User" so you can really focus on building the next feature that matters.
With a Changelog
Our changelog is a place for you to promote your product to users and we built it to live up to that. There are no distractions on the page, it's built to engage with your brand, sign up for your product, and maybe give you a follow on Twitter, but not more.
A new draft will be automatically created as soon as you complete a project in Linear. To save you even more time, you can add all issues that have been done since the last changelog within a single click.
We are already hard at work on the next features, including integrations with more systems and platforms like Slack, Hubspot, and others. We are super excited to hear from you! We are slowly letting users in, to make sure everything is working and tweaking things as necessary, so go and sign up for our waiting list!