Changelog
Updates and improvements to Productlane.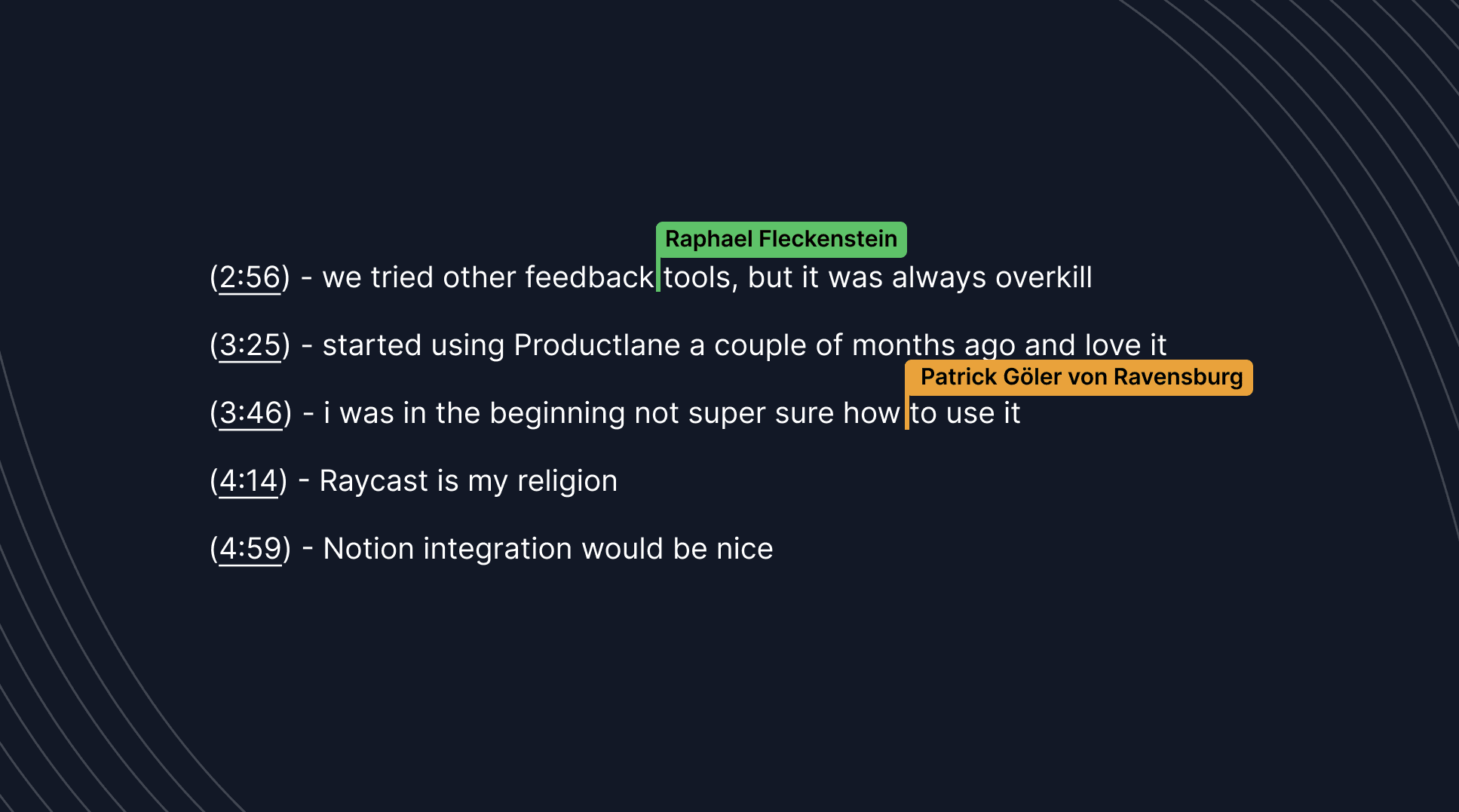 Collaborative editor & commenting
Productlane is built for teams. From the beginning, our vision was to align every person in the company around the user. Taking interview notes, processing feature requests, discussing new feedback – this is now all possible together, with collaborative editing and comments.
You see the cursor and a little profile icon of your teammates, and can discuss new feedback in the comment section on the right. Mention team members by pressing "@" and they will be notified immediately.
Pricing updates
To celebrate collaboration and follow our vision, we decided to make Productlane free for up to 5 users with unlimited usage – including our Slack and Intercom integration.
Zapier Integration
We also added a very simple way to bring even more feedback to Productlane. From NPS or Churn Surveys to App Store Reviews and Helpdesk tools, you can now consolidate them all through Zapier.
AI summaries beta
Something really exciting is waiting for Productlane power users - if you have lots of feedback or interview notes attached to an issue, project or opportunity, you can now summarize it with our new AI summary feature on the top right of the page. We're releasing this as a first beta, and more AI functionality is in the making - including auto-suggesting links for new feedback and suggesting new opportunities from your Linear and Intercom data.
More improvements & fixes
There is a new green outline around the editor to indicate if you can use shortcuts

We show now for some of your users their profile pictures

ESC now closes the issue, project and opportunity selection modal

We enabled the feedback endpoint in our API

When hovering connected items on the editor, it's highlighting them now

Made note deletion possible with keyboard

Made typography in editor a bit better readable

Made most screens responsive (it's not perfect yet and work in progress!)

Importance icon is now hidden on the overview when there is no importance selected

Fixed a bug where the cursor jumps to the new line randomly in the editor

Fixed a bug where you couldn't edit project when no icon is selected

Company segments are now displayed separately from user segments

Upvoted projects are now also displayed on company details

There is a new scroll effect when hovering connected items on the editor

Tab selector has now a hover effect

Deleted notes are note in the note search anymore