Changelog
Updates and improvements to Productlane.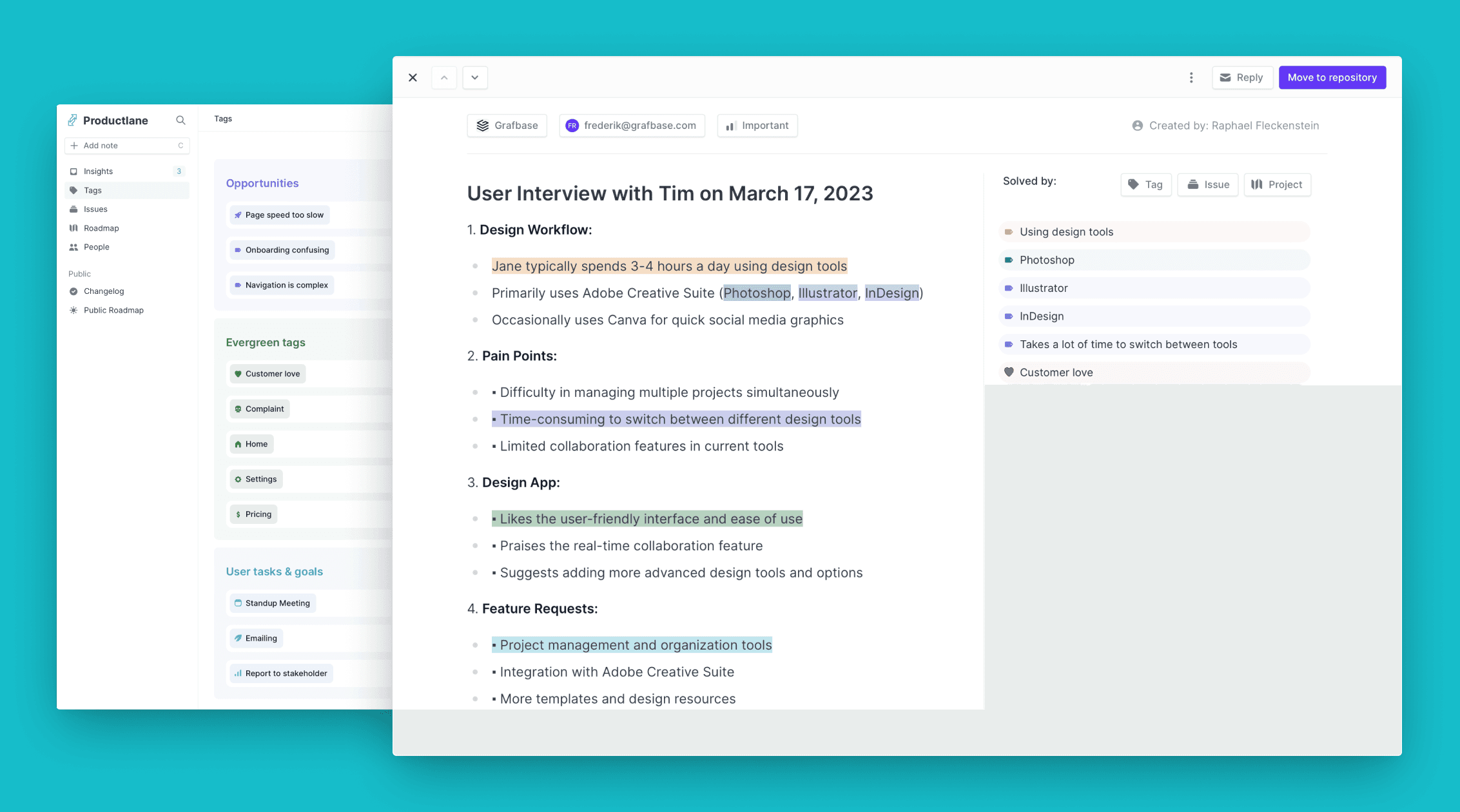 Tagging
This week, we're really excited about a feature that will play a big role in Productlane, especially for doing user research: Tagging.
We're testing a very opinionated approach that's based on our own way of building products, a mix of the Linear method and Teresa Torres' "Continuous Discovery Habits."
It's made for SaaS companies, but might not work for everyone yet. So we're keen on your feedback! We created three default tag groups that have a specific purpose:
Opportunities
Discover patterns and verify problems before jumping into solutions

User tasks & goals
Get a feeling of what your users do every day to find problems they don't know they had

Evergreen tags
Keep track of timeless insights like pricing feedback or why people love your product
Please let us know if you have a use case, we don't solve with the default tag groups! We might make them customizable in the future.
Issues page and issue details
You now have a page for all issues that you linked through Productlane. See each issue's importance score, company segments, user personas, and trends! If you use our importer for Intercom, Front, or Zendesk links, you will also see them on the page. And on the details, you now see all insights connected to the issue.
Paste images to insights & changelogs
A small but mighty feature that many of you waited for: You can now paste images into insights and changelog.
More improvements & fixes
We improved the companies: You now see all todo and done projects and issues of a company

We simplified the navigation and combined People, Companies and Segments

There are now only upvoted projects that are "Todo" on the people details

Fixed a bug where you couldn't enter the domain when there was a "/" at the end

You can now book a demo through our website's homepage

You can now create users and companies through our API

New setting to disable automatic changelog drafts in the settings

Imported insights from Front, Intercom, and Zendesk don't create issue links anymore
Changelog drafts have now auto-save
You can now link to a project twice on the insight

Fixed a bug where the email was shown instead of the company on the insights